If you read marketing papers, you already know: 121 marketing is a very powerful and efficient medium. If it is used in the right way. Let's deep dive in the foundation of what will help you build an efficient CRM plan: our Database!
---
Benchmark dedicated emailing
---
MEDIA KPI'S
Opening rate: 35%
CTR: 3.6%
SALES KPI'S
Campaign Sales uplift (versus control group) : 35%
Brand sales uplift (versus control group) : 20%
Rdemption Rate
---
Who is the Delhaize shopper?
---
First party data of retailers have become increasingly important to brands: the data quantity & quality, its source and its various segmentation possibilities have turned data in a goldmine for brands.
With Delhaize's SuperPlus card & program, we have come to a new era of our database: Renewed & fully digital, it gives us more agility than before to target the right shoppers based on their needs & problems.
Our database has been expanded significantly: today, Delhaize has over 2,8 million active and identifiable Delhaize customers (card holders).
2,5 million of those customers can be contacted for emailing activations by MMD.
And we have more information and insights than ever on buying behavior.
---
How can I target the Delhaize shopper in a relevant way?
---
With a pool of 2,5 million customers who can be reached for brands and products sold in our supermarkets and for external brands & services as well, you might think the sky is the limit.
But no, our aim is not overwhelming these card holders, because this would mean: no relevancy!
Think "Less is more": learn how to only target relevant people, based on accurate briefings and objectives. The results of your activations will follow.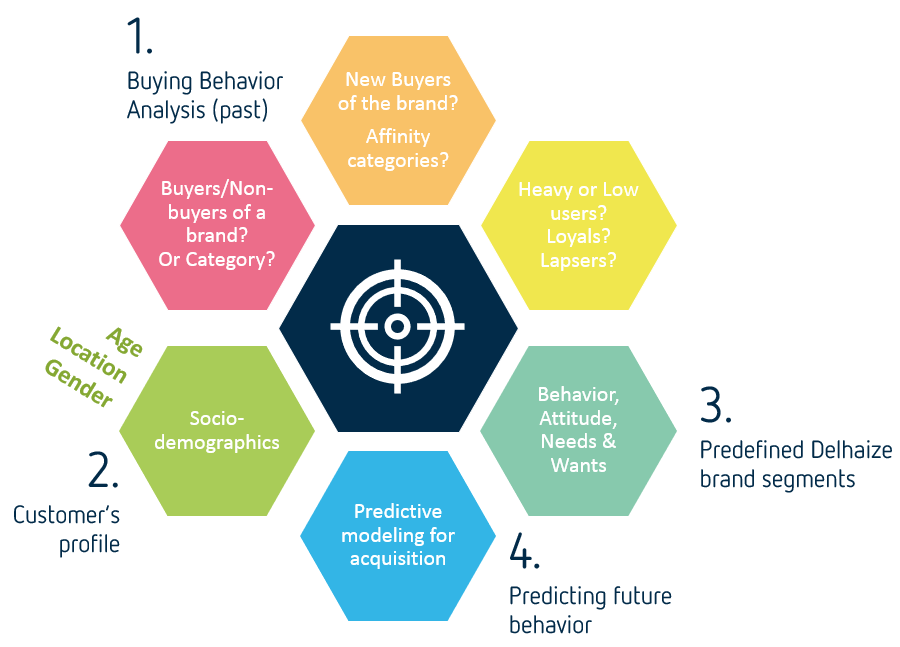 1- Past Buying behavior:
Do you want to reach buyers or non-buyers of your brand? Buyers or non-buyers of the category? New buyers of the brand? Do you want to retain your loyal customers, or do you want to win back lapsers?

2- Customer Profile:
Targeting on the Delhaize customer's socio-demographics:
3 - Targeting on Delhaize branded segments: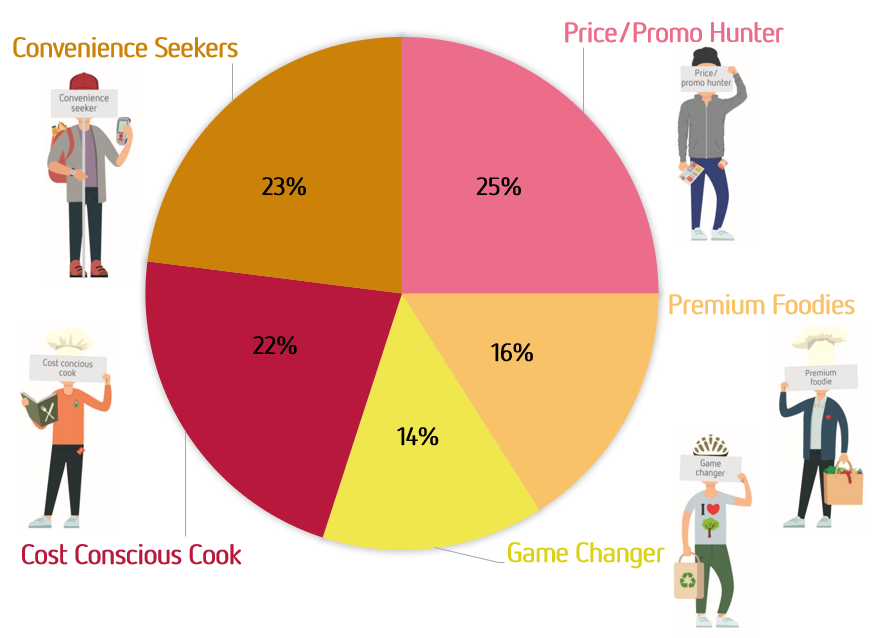 4 - Predicting future behavior with the Predictive Acquisition Model:
Based on a references list or (sub-)category list of your choice, we can help you find customers with a higher propensity to start buying your products and of course, target them. We can replicate this for all our card holders at Delhaize!
What do we ask from you?
A list of SKUs and/or a subcategory on which you would like the analysis to be done
A time period of your choice (recommended: 6 months)

---
Use Delhaize segments for non-endemic brands & services
---
With a database of over 2.5 Mio customers, chances are high that you reach your client with us. When segmenting that database for CRM activations, non-endemic brands could find a perfect fit between their audience and our shoppers in terms of buying behavior.
Let's get creative now and see how our data & analytics can do the work for your non-endemic product or brand. As you can see above, there is always a way to find your ideal target group