The MMD programmatic DOOH offer in the Delhaize environment will be launched as from October. MMD's total Digital Signage inventory will be available for programmatic buying through MyAdBooker, a programmatic digital out of home technology connected with industry-leading Demand Side Platforms.

With more than 800 screens, deployed all along the customer's journey (Entry Screens (178 screens), Category Screens (423 screens) and Checkout Screens (208 screens)), you can deliver the right message at the right time to the right audience.
=> Have a look at our DOOH inventory
Calculation model: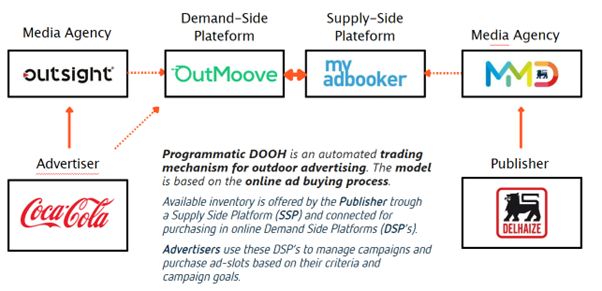 Currencies for Programmatic Digital Out Of Home are impressions and CPM.
At MMD, we have based our calculation model on the D-OTS model (Digital Opportunity to See).
The D-OTS model was developed by the JIC BRO in collaboration with the IAB.
D-OTS = 1 person having the opportunity to see a digital screen for at least 2 consecutive seconds when an advertisement is broadcast (Het Buitenreclame Onderzoek, 2019)
=> Read the press release of MM
For more details, please contact Julie Parisel : jparisel@delhaize.be