Connect with over 600K online Delhaize shoppers per week
---
MMD enables advertisers to target visitors on the website and the web shop of Delhaize in an even easier way than before, as we have many bannering possibilities on our platforms to connect with your target group all along the digital customer journey.
By following the latest metrics, the Delhaize SuperPlus app has been generating more than 370,000 visitors a week. Our desktop variant is still a stronghold as well, with an average of more than 400,000 weekly unique visitors.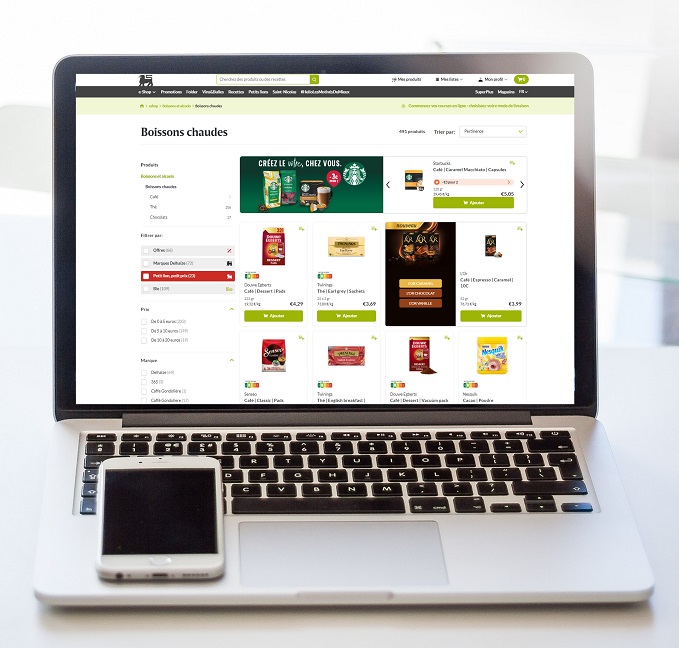 MMD diversifies its online offer
---
To make sure advertisers can reach these audiences as well, MMD has created some extra online tools.
The first one is our IAB bannering a new tool that certifies their exclusive presence on the home page and e-shop home page of delhaize.be, and on the home page of the SuperPlus app.
Other display formats remain part of our offer, such as our Commercial display with an immediate call-to-action. This format showcases a brand's product on interesting categories and key words for your brand.
The format is also available on the home page and on the check-out page of delhaize.be. In addition to display advertising, our offer will also meet other campaign objectives such as native advertising. Again, content will be king, as we will allow advertisers to highlight their stories by creating a Full Branded Page, or even a Recipe page.
Whether it's a recipe or a relevant video, just make sure you challenge us!
Unlike other tools, our online Push product for Free Collect or Free Delivery and Product Sampling activation tools will still be available as well. A big step forward if you want to promote your brand-new product.
Impact of the last click
---
With the growth in digital ad spending in retail media, advertisers found new ways to define their media strategies and most importantly, the success of it. For each of the tools in our offer, MMD provides the brand with a Post Reporting, allowing an overview of the online revenue generated with your campaign.
Have a look at what media professionals have to say about the Online Retail Media.
For more information, contact your Sales Account Managers: Anouk, Vanessa, Els, Willem.