Have you ever thought about the evident link that exists between your target audience and the premium target audience of Delhaize?
---
Instore
---
Digital Signage - Entrance:
Reach 1.200.000 customers weekly with our Digital Signage solution implemented in 100 POS ( + Extra 70 yet to come)
Give extra visibility to your OOH campaign with this premium network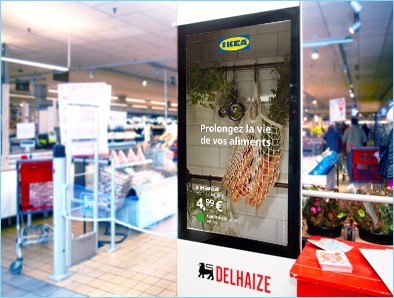 Checkout Screens:
All screens at the check-out of the Delhaize stores (170 screens in 60 stores).
Caddy Drive:
This tool provides continuous advertising throughout the shopping trip and unbeatable exposure to a captive audience. The steering bar is equipped with an NFC tag. Customers can retrieve current offers, videos, enter a game or a contest, and much more.
Caddy Move:
Two-sided laminated communication on the shopping carts
---
Online Communication & Activation
---
Checkout Page:
Give visibility to your brand on the most important page of the funnel on the Delhaize Website : The checkout page where we observe great metrics such as :
+/- 450.000 page views per month
Average Time Spent on page : 1 min.
Store Locator Banner:
Extend the reach of your digital campaigns with a visibility on our Store Locator Page where you will get 100% SOV in a week, with a reach of +/- 40.000 unique visitors/month
Zigzag Advertising:
Reach our online Shoppers with our ZigZag tool. This "Out Of The Box" solution will be distributed to 30.000 unique buyers over a period of 4 weeks. Great touchpoint to build awarness amongst our online shopper
Product Sampling:
Why should sampling only be used by FMCG-Brands? Be outstanding, original & creative in your communication
---
Targeted & Personalized communication
---
Dedicated e-mail:
E-mail sent up to 85.000 contacts and linked to a specific landing page. Targeting based on the shopper behaviour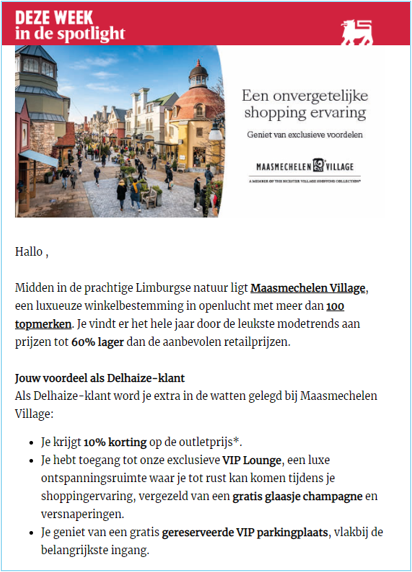 Insert e-mail:
Insert of a branded banner in the Delhaize weekly e-news. Possibility to segment up to 85.000 contacts or to send the news in a massive way up to 800.000 contacts.
Direct mail:
Mailing send to a specific target (min. 50.000 contacts). Great touchpoint to build awarness amongst Delhaize's shoppers!
---
Magazine
---
Delhaize Magazine:
A solid value for your media plan : The leading magazine in Belgium, #1 CIM Certified, meaning the most read magazine with more than 2.700.000 readers. Lots of advertising possibilities : A4, Advertorial, Mini Mag,…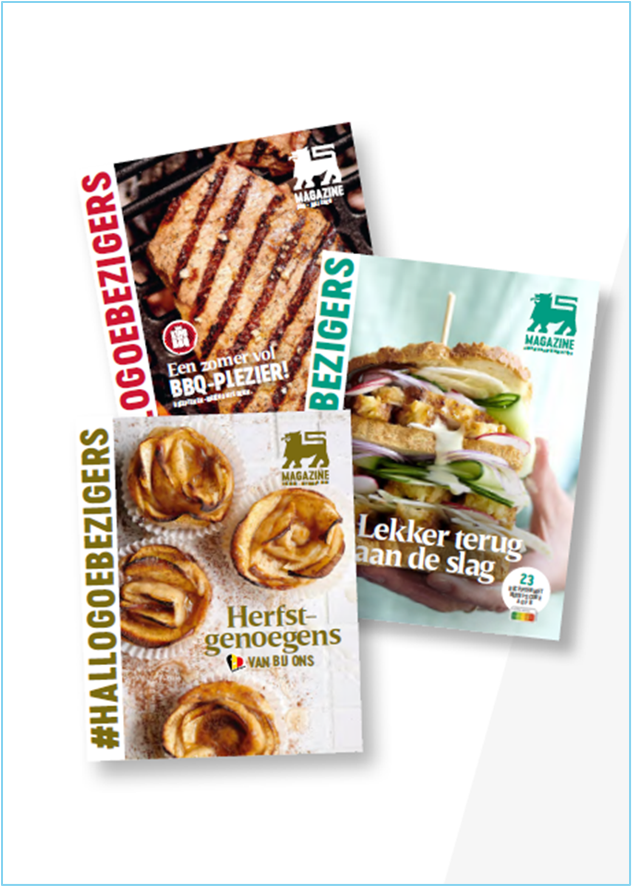 Contact Julie Parisel for a personalized offer: jparisel@delhaize.be